My grandmother, Lois, told me from a young age that I went at everything "like I was killing snakes." I doubt anyone who knows me would disagree. We started planning the 2019 adventure about a month ago, honestly, with a vengeance. Once we made the decision to head out for a longer trek in 2019, we started to carve out time to research. The planning we do together–away from the heavy work load of our daily lives–is pretty joyful. Once we started planning, this was what I wanted to do, even if I came home from teaching at 10:00pm. Killing snakes. For beer. For the dream of the open road again.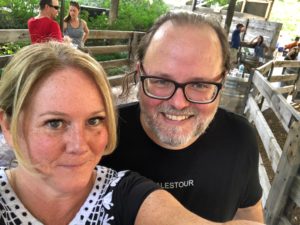 We have multiple tabs open as we search for the next leg of the trip. The Brewery Map (app and website) continues to win the day: we can more easily find small breweries in a big country. We move between this website and Airbnb, searching for the right combination: a drive under 4 hours off the major highways, a good brewery that is open on the day of the week we will arrive, and interesting lodging. We read blogs about "best Airbnbs in every state," "best drives off the beaten path," "best places to camp," and "odd places to visit." We sometimes digress from brewery searches to see if there is a ball game in a nearby town, a Brewfest, an interesting monument, a local concert. We have those all packed in to this six weeks too now.
This year, I am a fellow at the Digital Pedagogy Lab at the University of Mary Washington in early August. At first, this made the plan a bit more challenging because we had an ambitious idea: what if I could drop Jeff off in Asheville, NC at Sierra Nevada east and ask friends to join him? I love it when a plan comes together: Pat and Mike are flying in for four days of the trip. The men will hang out, explore a few of the 60+ breweries in Asheville, and then drive up with Jeff to meet me in Fredericksburg, VA. Jeff and I can then head back out for the final eight days, landing for the last stop at the Bend Brewfest.
I'm excited about every stop: setting out on the Loneliest Highway, camping in Grand Marais, imbibing at the Brewfest in Indianapolis, glamping in a tipi in the Blue Ridge Mountains, traveling by ferry in Okracoke, spending our anniversary at an Airbnb silo in Bonne Terre, MO, and all the experiences along the way that we can't plan for…
We set out July 8.
#choosetheadventure
More descriptions on the Route Page.