2019 Itinerary (64 breweries; 22 states)

The 2019 planning is well under way; we are excited to set out again in early July for a six week road trip in search of micro breweries, record stores, and great hiking. You can click on the map above for a more detailed list of towns and breweries on this year's path. We know the path looks a little strange, but like last year, we are working around an opportunity for Kim; this year she is a fellow at the Digital Pedagogy Lab in Fredericksburg, VA in early August, hence the infinity loop brewery path across the country.
As with previous tours, feel free to recommend stops–hikes, local food, and breweries–along the route! Add to the comments or send us an email.
Ely, NV: This year, we head east instead of north. We know from past experience that pushing far away from home on the first day of travel transitions you more easily from work life to road life. We knew we wanted an open road before us with no traffic and epic vistas: the Loneliest Highway is one of the best. We'll try our luck in Ely at the casinos (love this drive, but the Ely stop was no longer kitsch…just sad. Perhaps quick stop then head on down the road if you're heading out this direction)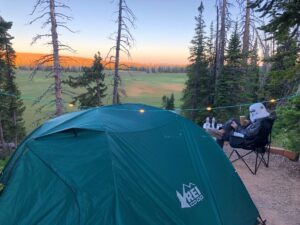 Cedar City, UT: Meandering through Utah and Colorado so we can time a Denver visit to watch the Rockies vs the SF Giants. We also managed to plan this trip with more camping and a lot of Airbnb stays. We are camping near Cedar City and visiting Policy Kings Brewery. Planning to hike at Cedar Breaks National Monument. (beautiful spot to camp. highly recommend even with the altitude adjustment.)
Moab, UT: Looking forward to a hike at Lower Calf Creek Falls on the way to Moab, then stopping by Moab Brewery. #walkingforbeer (took the incredible–and a little scary–drive across the Delores Triangle Safari route from Moab to Colorado. Saw bears and some of the most amazing vistas ever. Our RAV4 made it, but it's a jeep road so would not attempt in a sedan. 😉 )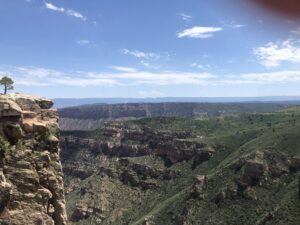 Grand Junction, CO: Plan to hike at one of the Colorado National Monument trails as we leave Moab. Earn a little brewery hopping: Kannah Creek Brewing, The Rockside Brewery, and Palisade Brewery in Palisade (Palisades brewery is a must stop; one of our favorites on the trip). All near a cute Airbnb cottage…
Buena Vista, CO:  Beers at The Jailhouse and Eddyline Brewing. (cute town if you can find an airbnb)
Colorado Springs, CO: We have great recommendations from friends, so we're staying two days here to sample records and breweries. Stops on the list: Cerberus Brewing, Goat Patch Brewing, Ivywild, Manitou Brewing, and Earth Pig Music, Leechpit Records, and Independent Records & Video. Airbnb apartment near Cerberus Brewing is a bonus. (Cerberus had great food and location. Don't miss Ivywild)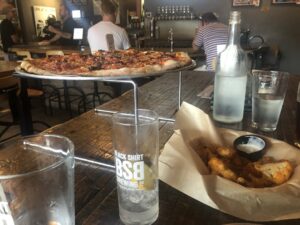 Denver, CO: Another two day layover with time for friends, a baseball game, and beer. On the list so far: Epic Brewing Co, Renegade Brewing Co, and Great Divide Brewing. Bonus: affordable stay at an Airbnb loft near the SF Giants vs Rockies game at Coors Field. (Found Blackshirt Brewing with one of the best pizzas we've ever had and great beer and cocktails)
Scottsbluff, NE: Originally, we had a scheduled stop near Hot Springs, SD, but we discovered that the brewery nearby closed as of May 31. Now we're stopping by Flyover Brewery in Scottsbluff and searching for some other places along the way. (Flyover was worth the stop)
Spearfish, SD: We are returning to the scene of last summer's epic thunderstorm and a great campsite. Nearby Mexican food and Crow Peak Brewing Co, which has a great upstairs deck. yessss. (beer at Crow Peak was underwhelming this time. This is so far out of the way that it's probably our last stop in Spearfish. But, if you are this way, be sure to stop at Lost Cabin Beer Co in Rapid City, SD. Beers were excellent.)
Bismarck, ND: By far, our favorite brewery stop in 2015 was Laughing Sun in Bismarck. Excited to return. We'll also check out Bird Dog Brewing and Stonehome Brewing Co. (Laughing Sun got much bigger and still has great beers and now food. Stonehome was a bit like a fast food stop for beer and would skip it.)
Fargo, ND: We spent a lot of time searching for the next stop between Bismarck and great lakes camping in Minnesota. Not sure about another "larger" city, but in the end, the chance to visit a lot of breweries won out. Fargo, hoping we chose wisely. Checking out Junkyard Brewing Co, Fargo Brewing Co, Drekker Brewing Co, and Kilstone Brewing. (Junkyard Brewing FTW).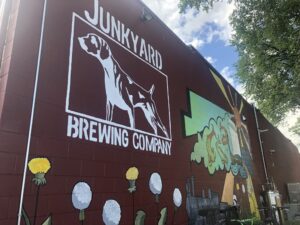 Grand Marais, MN: Long driving day and a campsite check in deadline (or they give away your spot!). Up early, and heading to Grand Marais Recreation area and Voyageur Brewing. (great camping options and cute town)
Duluth, MN: A second stop on the banks of Lake Superior and our first time to Duluth. Breweries: Hoops Brewing Co, Bent Paddle Brewing, Lake Superior Brewing Co, and Blacklist Artisan Ales.
Frontenac, MN: Camping here near the Mississippi River…getting the most out of our new camp chairs. Stopping at nearby Red Wing Brewery, which is less than 20 minutes down the road. (camp site was weird and pretty awful toilet options. Views at the lake were beautiful, but we'd skip this stop)
Madison, WI: Looking forward to a two day stay in Madison; in 2015, we arrived late in the day, left the next morning, and then regretted that we didn't plan for a longer stay. Many breweries to visit: Rockhound Brewing, Great Dane Pub and Brewing Co, One Barrel Brewing, and a return to Vintage Brewing and Ale Asylum. Staying at a cute Airbnb in the middle of the brewery stops. (great brewery stop and great food options)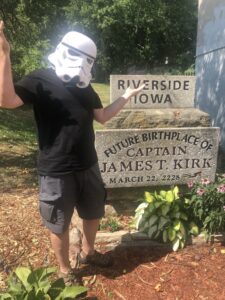 Cedar Rapids, IA: Lots of searching in this part of the country before deciding on a stop in Cedar Rapids. We jumped on the Atlas Obscura website to see if we could find anything strange to see: the future home of Captain James T. Kirk seemed like an obvious stop for a couple of geeks like us. Once we found a historic Airbnb tiny house near coffee and breweries–Iowa Brewing Co, Clock House Brewing, Lion Bridge Brewing, and Thew Brewing Co–plus the Lover's Leap Swinging Bridge, feeling good about this adventure through Iowa. (airbnb was in the center of a lot of activity..small but super cute. Breweries were awesome)
Indianapolis, IN: Love it when the timing of an event works out as you're searching for where to go next. As it turns out, the Indiana Microbrewers Festival is taking place just as we are driving by…and Airbnb comes through again in another major city. (airbnb continues to win the day)
Athens, OH: This stop was all about finding a reasonable driving time and a brewery on our way to Virginia. One of the rare hotel stays on the trip and stopping by Devil's Kettle Brewing. (Devil's Kettle is making some great beers and sours. Worth the stop. And the college town is adorable).
Fairfield, VA: Last summer, Jeff (with the help of the Brewery Map app) found a great brewery and lunch stop at Devil's Backbone Brewing Co. When we found an Airbnb tipi with a view of the Blue Ridge Mountains near the brewery, this stop was a done deal. (the tipi was interesting, but so many ticks! Oof. Devil's Backbone is still worth the stop, but we'd stay at a nice hotel perhaps)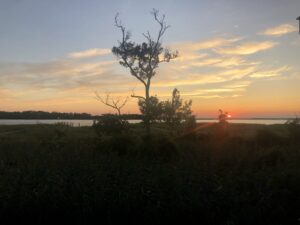 Kill Devil Hills, NC: Clearly, the devil is in the details since this is our third stop in a row with some devilish naming. We are super excited about this stop on the outer banks of North Carolina since we had no idea this little chain of land even existed. No making fun: we are both from a long line of northern California residents–our children are 7th generation–and we have not spent a lot of time looking at east coast maps :-). Staying at a cool Airbnb near Kitty Hawk, taking the ferry to Okracoke, and eventually a ferry back over to the mainland via Swan Quarter. Outer Banks Brewing Station, Buffalo City Jug Shop, and Okracoke Brewing are on the list of stops. (glad we made it to the OBX, but very surreal place. Our airbnd and the visit to Kitty Hawk was worth it. Food/beverages were meh).
Greenville, NC: Honestly, the next two stops are simply a way to get to Asheville. But hey, sometimes the places we think of as simply functional turn out to be pretty cool (it's how we found Laughing Sun Brewery in 2015). Two breweries to check out here: Pitt Street Brewing Company and Trollingwood Taproom & Brewery. (not our favorite stop)
Huntersville, NC: Ass Clown Brewing Company. The name made us laugh, so we've decided to give them a try. (Ass Clown was awesome. Go there.)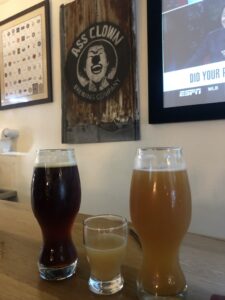 Asheville, NC: Our third return to Asheville! So. Many. Breweries. See the full map above for just a partial Asheville brewery list and a helpful resource here too. Mike and Pat flying in to join Jeff for a few days while Kim heads up to Fredericksburg. But, we will all get a chance to celebrate Jeff's BIRTHDAY for the first night in Asheville. Lots of great Airbnb options in Asheville, which are closer to breweries and more affordable than area hotels. We needed a house this time that could accommodate more people: I think we found a cool spot here. (airbnb was fabulous. We will go back to Asheville over and over again)
Richmond, VA: Mike and Jeff making a stop in Richmond on the way to Fredericksburg to meet back up with Kim. Great Airbnb house, plus history galore and many, many breweries. See long brewery list in the full map above.
Fredericksburg, VA: While Jeff and crew visit Asheville and Richmond, Kim will spend the week as a fellow at the Digital Pedagogy Lab at the University of Mary Washington. Hoping to have a moment or two to venture out in the town.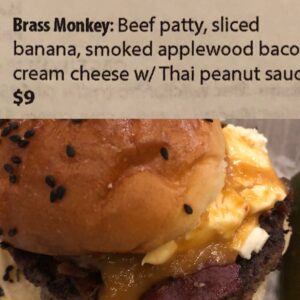 Huntington, WV: Decided to change our plans and drive a bit further today. Great brewery find: The Peddler. (turned out to be a cute town and nice stop. Fabulous beer, burgers and video games at The Peddler and hotel across the street worked great).
Elizabethtown, KY: Long driving day that ends at Flywheel Brewing. (not a good stop. Won't be back anytime soon)
Bonne Terre, MO: We searched for an interesting spot to celebrate our anniversary. Super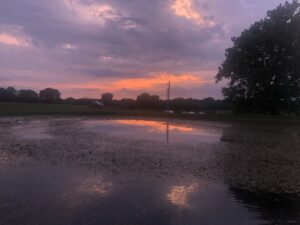 excited about this converted Airbnb silo in the middle of nowhere. Looks amazing. Swapping hops for sparkling grapes most likely. (Stunning airbnb stay. Watch the video.)
Lawrence, KS: Found the right combo of small college town, cute Airbnb, and a brewery, Free State Brewing Co. Black Stag Brewery turned out to be awesome right across the street too.
North Platte, NE: Another site swap to help break up some driving days. Pals Brewing turned out to be a great choice.
Thermopolis, WY: Town looks interesting (there is a Dinosaur Center) and a brewery too: One Eyed Buffalo Brewing Company. (Would skip. Brewery was not good and town was not much better)
Idaho Falls, ID: We found an adorable Airbnb in a lavender field with a hot tub. We can check out Snow Eagle Brewing, BlackRock Fine Wine and CraftBeer, and Idaho Brewing Co.
Boise, ID: And the last change of tow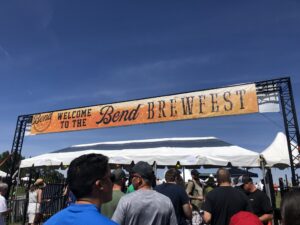 ns for the trip. Great brewery stops at Edge Brewing and Sockeye Brewing Co. (Edge Brewery was awesome)
Bend, OR: Only way to end the summer 2019 Pales in Comparison Tour is at one of the best brew festivals and an Airbnb stay. (If you love beer and the outdoors, go to Bend. Best brew festival around)
---
2018 Itinerary (22 states and 45 breweries)
The route for Pales in Comparison is set for 2018! We'll use the map above to update our stops, leave brewery notes, and add images. You can click on the map for a full screen view and follow along. You can also find the final list of stops below, with our justifications. Feel free to recommend stops–hikes, local food, and breweries–along the route.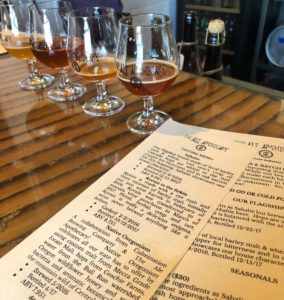 Bend, OR: Bend is an obvious first stop for a craft beer road trip. On the last #palestour, Crux was closed; it's top on the list to visit as we head out. We're also hoping to make our way to Bend Brewing Co, Boneyard, and The Ale Apothecary. We may also try to stop at Mt. Shasta Brewing along the way in Weed, CA. On the way out, we'll do some hiking to work off those brews. (Once again, we missed Crux, but The Ale Apothecary was worth the expensive, experimental beer. Found a great arcade–Vector Volcano--with beers on tap and got a bit distracted with our childhood video games. FTW.)
Boise, ID: Mostly, this is all about visiting Leslie and doing what she says. But I'm pretty sure we'll stop by Cloud 9 and Boise Brewing Co. (Best brewery stop: Barbarian Brewery)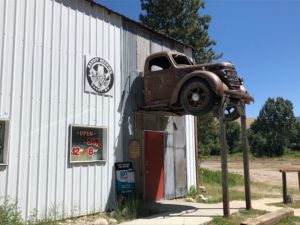 Salmon, ID: We are looking forward to a run up Hwy 93, a beautiful part of the country with a bounty of great breweries. We'll start at Beltram's Salmon Valley Brewery across from our lodging for the night, then we'll head off to Bitter Root Brewery in Hamilton, MT and make a return trip to one of our favorite spots, Blacksmith Brewing Co in Stevensville, MT. Hoping the amazing bbq from Long Riders is open! (We also stopped at what turned out to be our favorite spot on the entire trip: Bandit Brewing Co. in Darby, MT. You should stop here.)
Missoula, MT: Plan to check out Draught Works, Bayern, and Imagine Nation Brewing. (Excellent trio of breweries. Draught Works has live music and food trucks too. Stayed at the worst Red Lion on the planet. Airbnb continues to win the day; next trip, more airbnb. We actually ended up swapping out hotels for airbnb options for the remainder of this trip where we could.)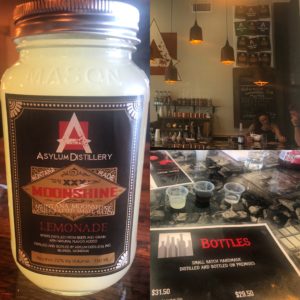 Billings, MT: Stopping by Montana Brewing Co, Uberbrew, and Yellowstone Valley Brewing Co. Also excited to hike out to Devils Tower Monument on our way to South Dakota. (Yellowstone was closed and Uberbrew had great service and staff, but underwhelming beer. Found some good microbrews at Carter's Brewing Co and a great distillery: Asylum Distillery. Also, highly recommend The Northern Hotel; lovely stay.)
Spearfish, SD: So, we're stopping here because we have a long way to go to get to Cambridge; we're trying to average about 5 hours per day of driving. But, we're not stupid: there is a brewery here, Crow Peak Brewing Co. And super bonus…we will be camping! Good friends know to bet the over/under on whether or not Kim actually follows through, and does not bail to head for the local motel. Our motto on this trip: choose the danger. (We camped in an incredible thunder storm..and it was awesome. The brewery had good beer and a rooftop deck; great Mexican food next door.)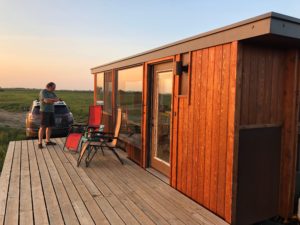 Mansfield, SD: The only reason we are staying here is because there was this intriguing blog about "the coolest Airbnb's in the USA": Kim found this incredible place. Yes. Please. Looks like Dakota Territory Brewing is 20 minutes down the road. (We found a great, new brewery for a lunch stop on our way to Iowa: Remedy Brewing in Sioux Falls, SD.)
Boone & Ames, IA: When you're trying to make your way across the country, it can be fun to check out Atlas Obscura for strange places to stop along your route. This is how we found out about Elwood, the world's largest gnome. We're stopping. We're also stopping at Boone Valley Brewing in Boone, IA and in Ames, there is also Torrent Brewing Co and Olde Main Brewing Co. (Boone Valley was a cool stop and we found an adorable airbnb in Boone as well.)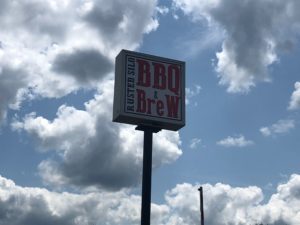 Champaign, IL: Very excited to stop by The Blind Pig, DESTIHL and Triptych. (Fabulous brewery stop. And, bonus, one of the best BBQ stops on the trip too at Rusted Silo BBQ)
Springfield, OH: Again, this stop is driven by that whole ~5 hour drive rule and trying to take a wide berth around Chicago. Stopping in at Mother Stewart's Brewing. (Worst stop on the trip. Strange, strange town no matter what the Simpson's say. Stop at Mother Stewart's brewery in you're driving by, but stay some place else down the road.)
Erie, PA: We had a hard time deciding on these last couple of stops before MIT. Checking out Erie, PA and staying by the waterfront. A couple of breweries look very promising: Voodoo Brewery and Lavery Brewing Co. (Not our favorite stop)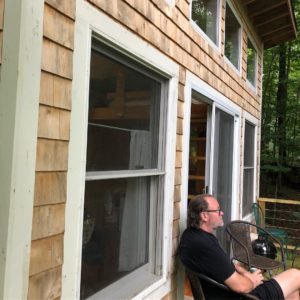 Ithica, NY: Kim fell in love with this little airbnb cottage, so we're staying in Ithica. And, of course there is a brewery: Liquid State Brewing Co. (The little cottage did not disappoint; fireflies from the deck that night put on a beautiful show.)
Cambridge, MA: The impetus for this road trip was the fact that Kim is giving a talk at the Connected Learning Summit, which takes place at the MIT Media Lab. Such excite. We figured this was a great excuse to drive across the country. We're staying at a cool looking airbnb apartment nearby and we'll check out Cambridge, Lamplighter, and Trillium Brewing Companies (thanks Keith Adams, an actual craft beer expert, for the recommendations; you should follow @grubulub here.)
Brattleboro, VT: Excited about this beautiful stop in Vermont for a number of reasons: 1) it's only a 2+ hour drive from Cambridge; 2) it is Jeff's 50th BIRTHDAY(!); and 3) the Whetstone Station Restaurant & Brewery, where we will celebrate Jeff's birthday, looks lovely. The boutique hotel, record stores, hikes, coffee shops are an added bonus. (Okay, the record stores were great. The town and hotel were not boutique, just eclectic. Brewery service was awful, only a couple of beers on tap, and food was meh. Glad we went, but may not be back. The Co-Op was wonderful for a restocking of groceries though.)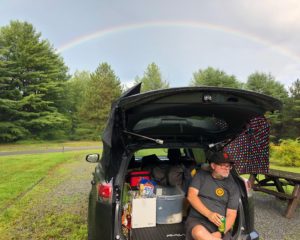 Pottersville, NY: We are camping again in Pottersville. Fireflies! (Great stop at Paradox Brewery in a thunderstorm!)
Williamsport, PA: Jeremiah was a Bullfrog Brewery …or something like that. (Better beer was found at Riepstine's Pub & Brewery, which also has some good pub food. Bullfrog could not have staff who was less interested in beer; disappointing)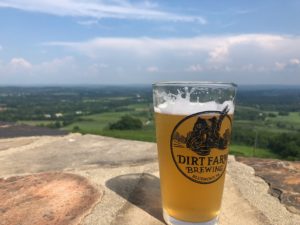 Leesburg, VA: Staying with Paul & Lisa! And Lisa, Kim's friend for close to 35 years. (They showed us great local breweries: Dirt Farm Brewing (with stunning views of Maryland) and Vanish Brewery. Leesburg is an adorable town with lots of great food, wine, and breweries nearby. On our way to Roanoke, great brewery and lunch find (thanks Brewery Map) at Devil's Backbone; we'll return in 2019.)
Roanoke, VA: Last time we took this route, we stayed at the worst. motel. ever. This time, we've chosen an airbnb wisely and look forward to heading over to Deschutes east coast tasting room. Last stop before the mother ship, Sierra Nevada! (The airbnb was amazing with a private, rooftop patio and beers on tap in the bike and brew shop downstairs. Found food Mexican food around the corner. Hope to return.)
Asheville, NC: Sierra Nevada Beer Geek tour already booked! But Asheville has 42 craft breweries, so we're staying for a couple of days. We'll visit Burial Beer Company, Hi-Wire, The Funkatorium, Green Man Brewery, Catawba Brewery, and Twin Leaf Brewery. (Great airbnb stay. And probably the most amazing meal in 2018 at The Admiral. We will be back to Asheville in 2019…and many, many more times. So. Many. Breweries. And, airbnb options abound.)
Savannah, GA: Mark & Todd! Our dear friends will join us as we celebrate our 18th wedding anniversary. (Had a wonderful dinner at The Grey Restaurant (grits!). Visited Moon River Brewery (walking beers too!) Our airbnb was at the edge of Forsyth Park and super cozy)
Birmingham, AL: Staying with family and looking forward to some local history. (Hope to be back to explore)
Biloxi, MS: Putting our toes in the Gulf of Mexico and staying at a trippy looking casino. We'll also meander over to Crooked Letter Brewing Co. (Lots of construction made it challenging to visit the brewery, but Kim did win some money at the casino and we had a great drive the next day along the Gulf coast.)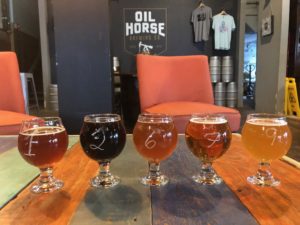 Longview, TX: Time to make our way back to Cali, so we had to make some choices here about heading back toward the north west. We use a great website called Brewery Map, which allows us to see if there are any breweries from point a to point b. We'll check out Oil Horse Brewing Co in Longview. (Oil Horse was a great stop and we were able to have food delivered to the brewery. Not a great motel stay, so there's that. Lodging was super challenging here.)
Lubbock, TX: See above. Breweries: The Brewery LBK (awesome stop!) and Triple J Chophouse and Brew Co. (The LBK brewery and a fabulous airbnb home made this a great stop through Texas.)
Albuquerque, NM: Long driving day, but we'll end with so many brewery options! We'll return to La Cumbre, Bosque Brewing Co, and Canteen Brewhouse and hope to check out as many as possible from this list. When Kim is in need of a cocktail, we'll head to Two Fools Tavern. (Breweries all had live music. Our hotel, Hotel Parq, had a lovely rooftop bar and a fantastic cocktail.)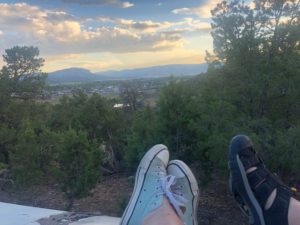 Mancos, CO: Planning the last few days home was challenging. We looked at so many incredible places to stay and we look forward to the hiking around Four Corners and Monument Valley. In the end, we went with another cool airbnb option: Elouisa, the refurbished '57 schoolbus.  We will venture into town as well to the Mancos Brewing Co. Choose the adventure. Always. (The bus was definitely a highlight of the trip. Hope to stay here again)
Elko, NV: Last stop on the #palestour. (After a nine hour driving day, we mostly drank Pale Ale from the ice chest in the RAV4. But, we did find some great Chinese food at Chef Cheng's.)
---
2015 Itinerary (15 states and 24 breweries visited):
Trying to plan a route across the U.S. that takes us to small town brew pubs is no easy task. But here it is, the best laid plans…so far. Feel free to make recommendations!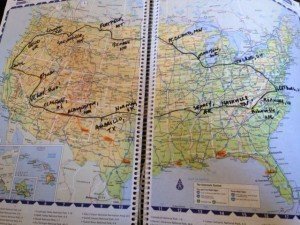 Bend, OR: home of Crux and 10 Barrel Brewery
Lewiston, ID: Met Travus, head brewmaster, at MJ Barleyhoppers. Great, crisp beers on tap
Stevensville, MT: sauntered over from the Stevensville Hotel to Black Smith Brewing Company for a great Pale Ale–their P.D. Pale Ale. Also, great BBQ next door at Long Riders BBQ
Fort Peck, MT: Not seeing a brewery. We just wanted to stay here. We pulled some Sierra Nevada Barrel Aged Torpedo out of the stash in the trunk of our car. Turns out we could have skipped this, but hey, we got to see a lot of Montana.
Bismark, ND: Loved Laughing Sun Brewing.
St. Cloud, MN: Beaver Island Brew, and bonus, a trampoline park!
Madison, WI: Vintage Brewing Co, Ale Asylum, and a Bacon, Beer, and BBQ Fest!
Toledo, OH: visiting Jeff's friend–and former high school partner from Quick-as-a-Wink Juggling Company–Gary. There may be a switch from hops to rye, but Gary says we're also going to Black Cloister Brewing Company. #ftw
Leesburg, VA: visiting Kim's long time friend, Lisa. Definitely hops and sparkling grapes–most likely some selections from J Winery brought with us from California–involved.
Christiansburg, VA: stopped at Blue Lab Brewing Company in Lexington, VA. Not the best choice for a stop and Blue Lab is now closed. Roanoke in 2018 turned out to be the better option here.
Asheville, NC: the mother ship: Sierra Nevada Brewery. Re-calibrated the beer palate. Plus stopped at Asheville Brewing Company, Hi-Wire Brewing Company, Wicked Weed, and Twin Leaf Brewery
Nashville, TN: Tennessee Brew Works and High Cotton Brewing Company in Memphis, TN
Searcy, AR: back to the Sierra Nevada stash we've stowed in the trunk. Not one of Kim's best town choices on this trip. :-/
Norman, OK: stopped by BJ Brewhouse, which for a chain restaurant, was actually pretty good. Decent IPA and Pale Ale and some great brussel sprouts!
Amarillo, TX: Long Wooden Spoon Brewery was not open to the public yet. Town turned out to be pretty frustrating…not a lot going in in Amarillo for its size.
Albuquerque, NM: Two Fools Tavern had great food (try the fish and chips for sure) and local beer selection and recommendations. Headed over to Bosque Brewing for an award winning IPA, then La Cumbre Brewing Company for a flight with a couple great IPAs and a nice Rye, and finally to Canteen Brewhouse for a great Pale Ale. Great town for craft beer folks.
Flagstaff, AZ: Flagstaff Brewing Company, Mother Road Brewing Company, and Lumberyard Brewing Company are close enough for a walking tour…7 minutes side to side
Vegas! saw Rush 40th Anniversary Tour!
Never decided on last stop between Vegas and home…turns out, we just drove home. 😉 But we would recommend a stop in Ely, Nevada at the Hotel Nevada.