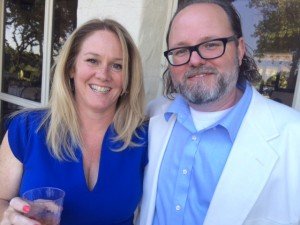 We created this site to share our road trip adventures. In July 2015, we meandered across the U.S. in search of good beer, kitsch locations, and beautiful vistas. Our main goal–and the inspiration–was to go from Sierra Nevada Brewery in our hometown of Chico, California to Sierra Nevada Brewery in Asheville, North Carolina. But we got there via Oregon, Idaho, Montana, North Dakota, Minnesota, Wisconsin, Ohio, Virginia…you know, the directionless route. We headed out again for 32 days on the road in late July 2018. And now we are ready for 6 weeks on the road in July 2019. We'll share our journey along the way…
We started the "buy us a beer" button that you see on the right hand side of the site as a joke with friends…but those friends really did use it to buy us a beer; in turn, we started "sponsored beer" thank you's in our daily video updates. We send sponsors a Pales in Comparison sticker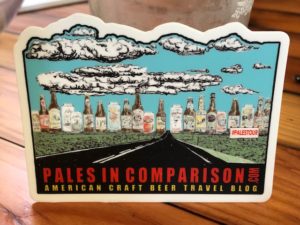 as a thank you and we still do daily sponsored beers in our videos. The best part of this exchange is when people ask us to try a specific type of beer or a local beer they wish they could try: this helps us to not simply drink pale ales and IPA's across the country, which we love. For 2019, we will use the funds to buy books for students at Chico State who are in need, many of whom lost homes in the fire. Thank you for beers, the books for students, and recommendations!
Follow along on Instagram. We'll post daily video on this site too and link through various social media using the #palestour hashtag. You can also subscribe to the videos on our YouTube channel link here.
Choose the adventure…
---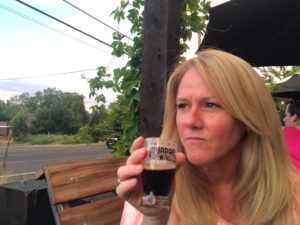 Kim:
I'm an Associate Professor of English at California State University, Chico. And a self-proclaimed geek.
Twitter: @drjaxon
Instagram: @kjaxon
Featured Contributor Connected Learning
Vimeo: https://vimeo.com/user8207773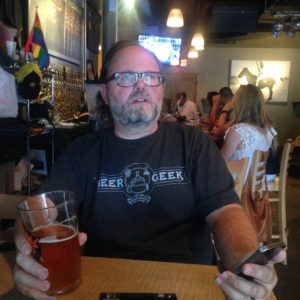 Jeff:
I am an artist, maker, breaker, and fixer of things. I work out of my studio/shop in the farmland area of Capay, located between Chico and Orland in Northern California. I used to be an IT guy by day and artist on the side, but made the leap to being a full-time artist and opened Rusty Vine Studio.
I could probably put this stuff all in one place, but I find it best to keep my multiple personalities separate or they bicker. So here's the breakdown:
Jeff Jaxon
Twitter: @jeffjaxon
Flickr: www.flickr.com/photos/jeffjaxon/
YouTube: www.youtube.com/user/elwoodsdotcom/videos
Instagram: @jjaxon
Rusty Vine Studio
Official studio and business of Jeff Jaxon.
Web: www.rustyvine.com
Twitter: @rustyvinestudio
Facebook: www.facebook.com/rustyvinestudio 
Instagram: @rustyvinestudio
Elwood's Cyberpunk Saloon
Super-secret, semi-fictitious,and mostly-private bar of Jeff and Kim Jaxon. "You may never find a more wretched hive of scum and villainy." Shhh… it's a secret… but the website isn't.
Web: www.elwoods.com
Twitter: @elwoodsdotcom
Facebook: www.facebook.com/ElwoodsCyberpunkSaloon