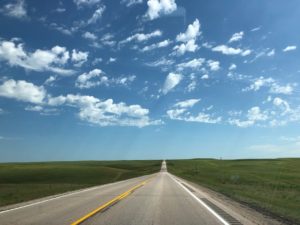 If you've ever had the time to drive a long, meandering scenic by-way, then you know what it feels like in your gut as you turn a corner or come up over a hill to witness what is laid out before you: some epic, vast valley or mountain range or even a wilderness of corn fields, but at a scale that you've never experienced. In the past week, Jeff and I have had so many of these moments that we now laugh as we gasp at scenic view #93.
We know how fortunate we are to get to do this 32 day adventure. Our motto since we started planning: choose the danger. When we have a choice between stopping at that roadside attraction or trying out the 7 mile hike or not, we choose the adventure…every time.  We've already experienced the most incredible thunder storm in South Dakota inside our tent, searched for aliens at Devil's Tower, spent the night in a micro cabin among acres of soybeans, and sampled brews and chatted with the locals at 19 breweries in 8 days.
Highlights so far:
By far, the best brewery experiences have been at Bandit Brewing in Darby, MT, Draught Works in Missoula, MT, Remedy Brewing in Sioux Falls, SD and Boone Valley Brewing in Boone, IA. The combination of pub aesthetic, friendly people, and fabulous beers make for memorable experiences. These are places where we would become the locals if we lived closer, and we will certainly return.
Staying at the micro-cabin in South Dakota was magical. Miles and miles of open fields, mainly filled with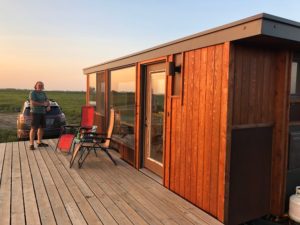 soybeans and a stunning sunset. We felt like we were the only people on the planet. So healing. We also found ourselves camping on the only night we've had stormy weather; we experienced the full impact of an incredible thunder and lightening show, laughing the entire time in our tent.
Hiking Devil's Tower in Wyoming is a must stop if you're in the area.
We head out for Champaign, IL tomorrow and on to Cambridge to finish out week 2…lots of roads left to travel.